Brooklyn-Based Firm Particle Launches Homewares Collection Made From Recycled Footwear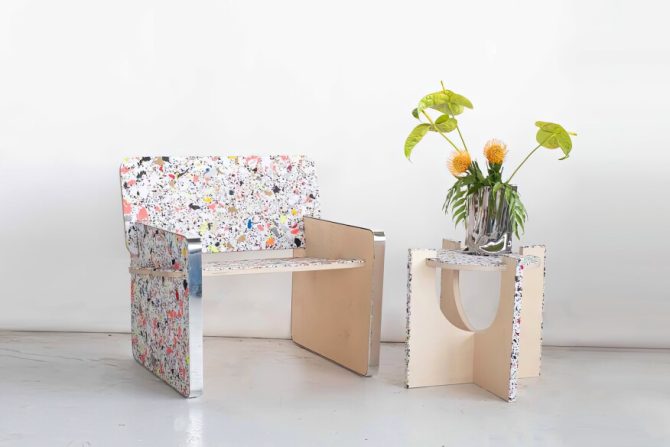 Brooklyn-Based Firm Particle Launches Homewares Collection Made From Recycled Footwear
At the recent NYCxDesign Festival, one product collection made an outsize impression. This assortment of novel furniture and household objects composed of simple interlocking planes of wood, chrome, and iridescent plastic, might have only attracted momentary attention if not for its compelling fabrication story. Upon close inspection, the "I Got Your Back" chair and matching stools, placemats, and coasters revealed an unusual material pedigree. All of the Homewares Capsule Collection products, made by Brooklyn-based firm Particle, are made primarily from recycled footwear.
As material sourcing and waste concerns intensify, Particle does not merely represent a fad but indicates a necessary shift toward cradle-to-cradle manufacturing and recycling processes. The so-called circular economy minimizes resource waste, channeling existing materials back into new product manufacturing streams as much as possible. The circular model is a more environmentally responsible alternative to our current linear economy, in which virgin materials are transformed into new products we use and discard.
The concept of a circular economy emerged in the 19th and 20th centuries during significant moments of technological change and resource stresses, such as in postwar Japan. The Swiss architect Walter Stahel, whom some call the father of the circular economy, outlined what he dubbed the "self-replenishing economy" in his award-winning 1982 essay "The Product-Life Factor."
Although highly sensible—even from a traditional economic perspective—material circularity has been difficult to achieve. According to the World Resources Institute, a nonprofit based in Washington, D.C., there are five barriers to the circular economy, including restrictive government regulations, inadequate waste handling processes, and insufficient recycling technologies. Perhaps the most significant hurdles are cultural—as seen in our habitual use of single-use plastics or our complacency with the vicissitudes of fast fashion. By this logic, if sufficiently compelling models of circular products can be widely commercialized, increased consumer awareness may help overcome regulatory, market, and technological challenges.
Elevating awareness is more achievable if products, such as the Homewares Capsule Collection, are purposefully designed to communicate their circular story. Particle founders Krissy Harbert and Amanda Rawlings developed the collection to close the loop on part of the resource-intensive apparel industry while conveying the upcycling story in vibrant new products. Although the number of new offerings made from repurposed waste streams continues to grow, Particle represents a remarkable technology transfer story based on Harbert's and Rawlings' former careers at Nike and knowledge of the footwear industry.
Take the raw ingredients of repurposed shoe materials, or regrind. According to Harbert and Rawlings, regrind typically consists of a blend of more than 20 materials, whereas Particle focuses on just a few elements, such as EVA or EPDM. The benefit is that a few select substances can more easily be recycled many times, whereas a monstrous hybrid of many ingredients can only be reused once and is more likely to wind up in a landfill. Particle products are also suitable for machine and hand washing and are expected to maintain their original quality for at least five to 10 years. "Furthermore, we have implemented a closed-loop circular system where customers can return the product to our factory for recycling the material, ensuring its reuse in future product iterations," Harbert and Rawlings explain. "This approach fosters a sustainable and environmentally conscious approach to our offerings, forming a complete closed-loop economy."
Another advantage is aesthetic control, based on the designers' ability to select a palette incorporating in-vogue colors from the latest footwear season. "Since the footwear manufacturers we collaborate with create trend-based products, we have the opportunity to explore a wide range of vibrant colors," the Particle founders claim. "By examining the available color palette, we curate our own captivating color combinations that are both aesthetically pleasing and harmonious. This intriguing outcome of working with waste materials allows us to continually innovate and discover new color schemes that complement each other." The strategy to carry a trend-forward palette from shoes into furnishings represents an interesting design crossover opportunity as well as the potential to extend the durability of fast fashion.
Harbert and Rawlings have many aspirations for the future of Particle. One goal is the expansion of manufacturing capabilities. At present, Particle can manufacture sheets of material up to 3 meters by 3 meters, but larger sizes—as well as more custom molds for increased fabrication versatility—will be possible in the future. Another ambition is a consumer recycling program. The current line is made exclusively from post-industrial waste, specifically utilizing shoe and sneaker offcuts obtained from manufacturing facilities. However, Harbert and Rawlings are developing a take-back program to accept consumers' old sneakers, addressing the problem and opportunity of post-consumer waste. New products are also on the horizon. "We are actively engaged in expanding our range of homeware and furniture designs to introduce exciting new product collections in the upcoming seasons," the founders say. Future offerings include an expanded flat-pack furniture line and homeware collection, as well as a so-called "Studio" segment of bespoke projects and collaborations.
With its identifiable upcycling story, Particle may inspire consumers sufficiently to grow the footwear-to-furnishings loop measurably. By bridging multi-industry material expertise and treating repurposed ingredients as a design opportunity rather than a limitation, the circular economy stands a better chance of overcoming the seemingly insurmountable cultural hurdle.
The views and conclusions from this author are not necessarily those of ARCHITECT magazine or of The American Institute of Architects.
Read more: The latest from columnist Blaine Brownell, FAIA, includes advances in fabric technology, the architecture of energy, and a look at Junya Ishigami's KAIT Plaza.
Share: